What is Guaranteed Asset Protection (GAP)?
If your vehicle is totaled in an accident or stolen and not recovered, the amount paid by your insurance company may be less than the amount you owe on your loan. You will be responsible for paying this "gap" in coverage, which could be very costly to you. Guaranteed Asset Protection (GAP) coverage will pay the difference for you, plus up to $1000 of your insurance deductible.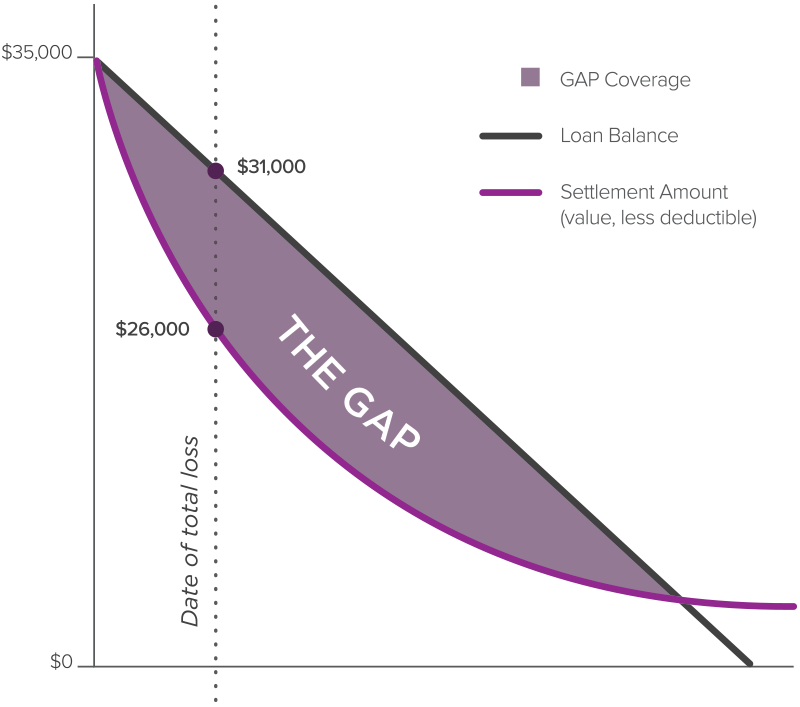 What causes a gap to occur?
In the event of a total loss of your vehicle, a gap between your insurance settlement and the payoff on your loan may occur for one or more of the following reasons:
The rate of depreciation on your vehicle exceeds the rate at which you repay the principal portion of your loan
Used car values are relatively low at the time of loss
You "rolled over" the remainder of your previous auto loan into the financing of your current vehicle
You put down little or no down payment at the inception of the loan
If one or more of the above applies to you, you should consider purchasing GAP coverage.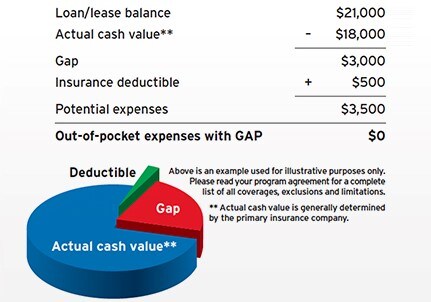 How this plan helps you
Insurance companies can only do so much, that's why GAP coverage was designed to fill in the gap. When accidents occur, insurance companies only pay the actual cash value of your vehicle, so it covers the difference between the actual cash value and the balance.
Key Features
Waives covered losses up to $50,000
Includes coverage for your insurance deductible up to $1000
The cost for the optional GAP coverage can be included in your finance contract
Available on loans up to 84 month terms
Cancelable within 60 days for a full refund. After 60 days refund will be calculated pro-rata
Covers loan balances that include equipment add-ons or rollover from trade-in that may not be accounted for by insurance companies
Benefits
Provides peace of mind by reducing the risk of unnecessary financial hardship and potential credit damage in the event of a total loss.
Maximum claim benefit in the event of a total loss or theft is $50,000
Waives up to $1000 of insurance deducible
Protects your investment for the term of your loan, up to 7 years
Coverage Exclusions May Apply
Coverage exclusions and limitations may apply, including total losses resulting from the Purchaser's dishonest, fraudulent, or illegal acts (such as DUI), or those committed by Purchaser's family member or other person acting under the Purchaser's authority; and vehicles used for competitive driving, racing, or a prohibited commercial purpose. Additional exclusions may apply. All transactions related to the optional Guaranteed Asset Protection (GAP) product are governed solely by the provisions of the addendum. GAP protection does not cover the entire value gap as pertains to; past due amounts on your loan balance, the amount of your primary insurance deductible that exceeds $1000, and delayed insurance settlements. Please refer to the GAP Deficiency Waiver Addendum for details of terms, conditions, and specific coverage details, including limitations and exclusions. Coverage may vary by state.